Sunday, January 29, 2012 at 4:28 PM
|

Writer's Cramp
I haven't mentioned it here until now, but I recently contracted with Jen Violi for manuscript revision services. I met her at a workshop at Wordstock in October and I'm thanking my lucky stars that I signed up for her email list.
I've made no secret of how much I've been struggling with getting my word count down on my ms, and the frustration it's engendered has been downright stultifying. When I began, I had at least 50,000 words to cut, which is about 20% of the book. Careful revision word by word resulted in only 20,000 words cut, which meant that something much bigger was going to have to go. And I proceeded to spend a year banging my head against that particular brick wall.
I don't normally struggle with revisions, even when it means removing something I dearly love (but know needs to come out). The thought of removing something significant wasn't what stopped me cold, it was trying to figure out what to remove. With such a complicated story involving multiple plots, themes, and primary characters, and everything integrated, everything I came up with seemed like it would break the story to a point that I'd basically have to rewrite the damn thing. I've done that once already, and although it was liberating, the thought of doing it again just made me want to pull the covers over my head and never come out.
The thing is, it couldn't be just removing words for the sake of some magical word count. The primary focus is and always must be about making the story better. I know this. But I worried: if I remove this major character or that major plot line, and very carefully tug all of the related threads out of the story and change it all around so that it doesn't leave a glaring hole in the story, have I chosen the right thing? Will the story be tighter? I needed to refocus, get a 30,000 foot view of the landscape, so to speak, but how to do that when I've been immersed in this story for years? Every direction I tried, I felt like was just sucked down further, like I'd plunged into a tar pit and was doomed to die trying to get out of it. I knew the story could be better, but I needed someone else's input on how to do it.
That's where Jen came in. A month alone with my book, including two read-throughs and copious notes, and she came back to me with eight glorious pages of incredibly helpful feedback: what was working, what wasn't, what was distracting from the main plots and characters, what needed tightening and trimming. What she gave me was not a map that showed the starting point and destination and everything in between, but an aerial shot that helped me see the lay of the land and decide where and how I wanted to change the topography. (And now that metaphor is soundly beaten to the ground….)
I have some major reworking to do. I'm ridiculously excited, a wee bit daunted, and gigantically relieved. After mulling over her feedback for a few days, my first day spent working on the ms — trimming the low hanging fruit contained in her suggestions — resulted in over 4,000 words cut. As of today, I'm officially down by 10,000, from a word count of about 230,000 when Jen got the ms to just below 220,000. I feel like cracking open a bottle of champagne! (Or in my case, sparkling cider.)
Another 20,000 words to go, but I'm not so overwhelmed by that damn number any more. I've gotten my focus back on the story, on what needs to be done and what I want to do to make it better. I have every confidence that the word count will continue to fall as a natural result.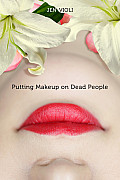 Putting Makeup on Dead People(Aside from her amazing powers for single-handedly keeping a desperate writer from committing ritual seppuku, Jen has also written a book called Putting Makeup on Dead People, which was just announced as a finalist for a 2012 Oregon Book Award. We have an embarrassment of riches in Oregon when it comes to writing talent so to be a finalist for these awards is a significant achievement. Huge congrats to her! Oh, and you know, you should totally read her book.)
tagged

book 1,

process,

word count,

writer's block
in

on writing,

revision